Two people I loved died yesterday. My good old friend John Joyce's grandmom died. She was old and in failing health and her death was not unexpected, but it was still sad. A benign, sweet old Irish lady, she gave me a lot of pleasure and laughter over the years and I will miss her. Her family cared for with love and tenderness and I admire them all greatly, especially John's mom, who was her daughter.
Marilyn died too yesterday and her death was also not unexpected. She had
ALS
, or Lou Gehrig's disease as it is often known, and though her battle was short in duration, it was long in guts. Marilyn and her partner Diane were among the Plaintiffs in a lawsuit brought against the State of New Jersey to allow them the right to marry. Sadly, this case has been sent down several times and is due again to be heard in the State Supreme Court. To me, not allowing them and other same sex couples the rights the rest of us have as heterosexuals is unjust, wrong and a sad comment on our society. Diane was unable to sign the papers to donate Marilyn's body to science for research. One of her grown children had to do it. That was, in Diane's words, "a slap in the face" and exactly what they were fighting for.
Marilyn was great. She was fun loving, full of life and laughter and truly a good woman, mother, friend and partner. I never heard her utter a bad word about anyone. I saw her giggle and guffaw a few times when others did, but she was kind, compassionate and giving. She was a lactation consultant and brought so much to so many people that it is inconceivable to me that she is gone. We had a lot of fun over these past years. Marilyn and Diane were both so happy for me when I met Chris and moved to Germany. They were so encouraging to me and truly happy that I had found something lasting and meaningful. It's a testament to the strength of their union that they were so supportive of mine.
A bright light has truly gone out. I loved her and I'll miss her.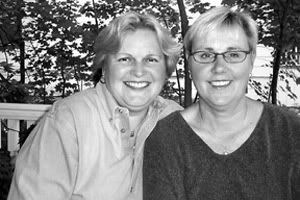 Di and Marilyn. Marilyn is on the right in the glasses.