It's been a long, but fun couple of days here. We had planned a stag night for Chris and a hen night for me for about a month and amazingly some friends of ours from Germany flew in for the festivities which were last night! Chris and the boys went out to some strip joint, which must have been fun because they didn't get in until 3:30 this morning looking very bleary eyed indeed. Lisa Evans threw a small party for me at her place which was really fun and lovely and very touching. She's a good egg. She invited my nearest and dearest girlfriends and my two sisters. We all made appetizers and there was an amazing array of really delicious food. It was a great night.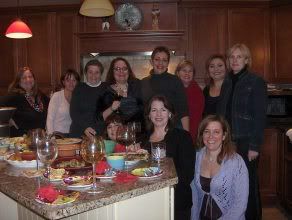 Chris was thrilled that Alan, his roommate of many years and Paul, who also was once a roommate, and years ago lived in Haddonfield and introduced us to each other, were able to come. It was a real surprise for him, and a really nice gesture. These are guys who have been there for each other. All of them expatriates in Munich, they really formed a tight little bond. It was fantastic of them to come so far and at major expense for this occasion. I think Chris was tickled pink.

They arrived Thursday night and they leave tomorrow. We've enjoyed sitting around our breakfast table laughing and sharing a lovely time.

Coincidentally it is Alan's birthday so we'll probably get up to some tomfoolery tonight. My liver will need to regenerate itself next week.

When the guys arrived, I had to put off having my nieces Lily, Kerry and Justine and my nephew Jack for the weekend till next weekend. We had planned to get our tree, bake cookies and make fudge and have a nice weekend together. With the exception of Justine who declared "If I can't come this weekend, I'm not coming at all!" they were very understanding! So that will be next weekend's antics.